---
Climate change is an unprecedented threat to life on Earth. In the 21st century, the scientific consensus on the human origin of climate change is also unprecedented: it is nearly 100%.
---
---
In their first joint report, the Intergovernmental Panel on Climate Change (IPCC) and the Intergovernmental Science-Policy Platform on Biodiversity and Ecosystem Services (IPBES) were clear: the climate crisis and biodiversity loss are two interrelated disasters; each feeds off the other.
The more the climate changes and average temperatures rise, the greater the pressure on animal and plant species, many of which simply will not be able to adapt fast enough. Yet the more species and ecosystems we lose, the less we will be able to rely on the incredible power of nature to help us.
In a climate emergency, destroying ecosystems is like turning off the power in an intensive care unit.
---
---
THE IPCC AND THE INTERNATIONAL UNION FOR CONSERVATION OF NATURE, WORKING TOGETHER, ESTIMATE THAT NATURE CONSERVATION ACTIONS ALONE CAN ACCOUNT FOR UP TO 37% OF THE EFFORT NEEDED TO REDUCE OUR GHG EMISSIONS BY 55% BY 2030.
---
---
We are campaigning to counter and adapt to climate change in Quebec using an affordable, proven, billion-year-old technology: nature itself. When natural solutions succeed in solving both an environmental problem and a social problem simultaneously, they are called nature-based solutions.
Within this broad category, nature-based climate solutions are those that improve our ability to capture and store GHGs through targeted interventions that range from conserving intact environments, such as primary forests and bogs, to better managing ecosystems subjected to human use, such as managed forests and agricultural lands.
The latest scientific research on nature-based climate solutions in Canada is conclusive: combined with a drastic reduction in the production and consumption of fossil fuels, they can make a decisive contribution to achieving the greenhouse gas reduction targets prescribed by the IPCC.
With nature-based solutions, we stack the odds in our favour.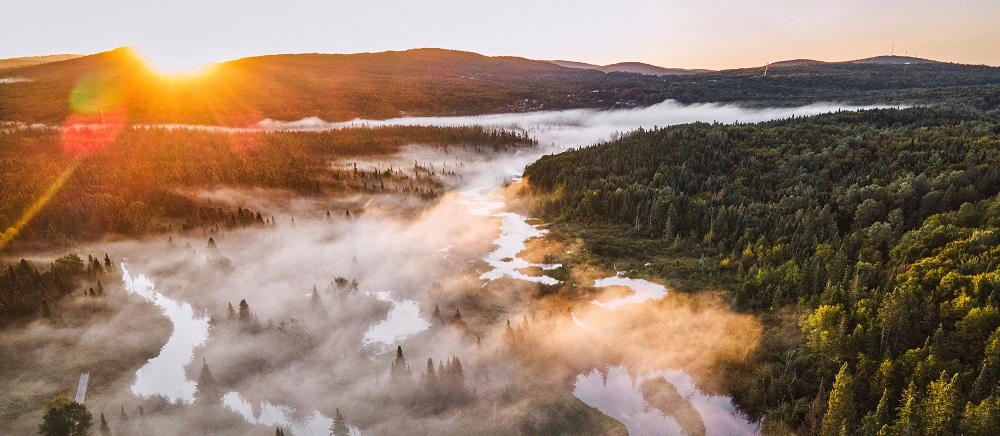 ---
---
A scientific study published by Nature United in collaboration with 16 other research institutions shows that nature-based solutions can reduce Canada's emissions by up to 78 megatonnes of CO2 per year by 2030.
---
---
By protecting, better managing and restoring nature, Canada can reduce its greenhouse gas emissions by up to 78 megatonnes of CO2 per year by 2030.
Nature's solutions can reduce Canada's annual greenhouse gas emissions by an amount equal to that produced by feeding each Canadian household for about 3 years.
The annual potential of nature-based solutions in 2030 is equivalent to 11% of Canada's current annual carbon emissions.
---
Sources : www.natureunited.ca
---
---
We are also working with the Quebec government, municipalities, citizen groups, university researchers and other environmental NGOs to raise awareness, acceptance and deployment of this essential part of the GHG reduction effort and of our collective resilience to climate disruption.
Our scientists and communicators stay up to date on the latest research on nature-based solutions, with several aims in mind: to promote the most suitable interventions for our social and geographical reality, to meet the highest standards of the International Union for Conservation of Nature (IUCN) and to provide high quality scientific outreach.
---
CPAWS Quebec aims to protect 50% of the province's natural areas. Support our mission!